Diet Rut? Shake it Up!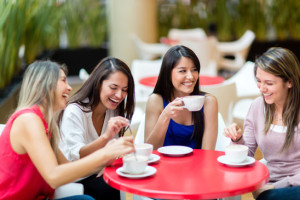 When you are determined to stick to a healthy diet, it can be easy to do the same thing every day. That may work in the beginning, but food isn't meant to be boring. It is important to find new ways to add your favorite flavors into your eating plan. Here are three simple tips for breaking out of your food rut:
1) Go Seasonal! In the fall, think pumpkin spice and apples, in summer, add some fresh strawberries and fruits to your breakfast. In the nice weather, hit the farmers' markets and see what is grown locally. There is nothing more satisfying than the flavors of fresh picked fruits and vegetables. If you work with what is in season, your variety of choices will continue to change. Get inspired! Plant a garden so you always have some fresh herbs at hand!
2) Invite friends for dinner! Having company can make you take a second look at what you are cooking. If your friend asks to bring something, suggest a side dish. It is always nice to have the help and interesting to taste how someone else prepares their food. Best of all, there is nothing more fun than enjoying a meal while getting a chance to spend a little time with friends. Why wait for a holiday or a weekend? Keep it informal and simple. (One more tip… Skip the wine and try making a healthy mock-tail instead)
3) Look for recipe makeovers. It is nice to have meals that are super healthy, but let's face it… sometimes you just crave macaroni and cheese. Take a look at Pinterest, along with other websites that feature recipe make-overs. Read the recipes and look for the tricks chefs and home cooks use to lighten up traditional ingredients. Some use less sugar, or applesauce instead of oil. What's important is that you get the essence of your favorite foods. No diet should  be about deprivation or it just won't last.
There are lots of ways to keep your taste buds on their toes. Even your protein shakes and bars can be spruced up. Check out Isagenix's recipe section for fun ways to make your shakes and healthy snacks.